At an open casting call held in a Manhattan rehearsal studio, potential four-legged stars will be screened and evaluated, not only for performing abilities, but also for temperament and charisma. Those who make it through the screening process will undergo a six-week course of instruction in those exacting techniques that transform pet into performing professional. All Star Pet portfolios will be featured online and viewed by influential producers and art directors.

Successful canidates will display their credits on the Star Pet website, joining former Star Pet graduates who have been featured in magazines such as Vanity Fur, Catmopolitian and Dogue. Star Pet will act as a strong advocate for animal-actors' rights, from residuals to health insurance. There is also a plan in place to develop an Animal Actors Guild.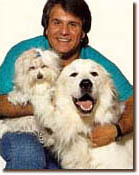 Bash Dibra, author of six best-selling books as well as a new soon-to-be released book on responsible pet ownership, is an expert in the field of animal training. He has numerous contacts in the advertising and movie industry and understands what it takes to "make your pet a star."
Be sure to check out our sister site, Paws Across America. Paws is a national campaign to promote responsible pet ownership through proper care and training of pets.

CLICK HERE TO VISIT OUR NEW ONLINE SHOPPING SITE!
Visitors: